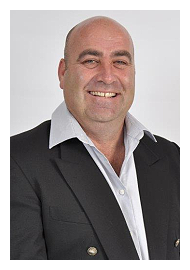 Serial financial services technologist entrepreneur Riaan Anton Swart is a highly successful businessman whose portfolio spans mining, construction & finance.
Riaan co-founded and listed Blue Financial Services on the Johannesburg Stock Exchange. He spearheaded it's international strategy and opened ten African markets before leaving to Payment Solutions International.
Understanding that the most complex problem facing emerging markets today is the lack of total financial inclusivity and the total cost of credit to the consumers, therefore Riaan is proud of being the founder of Payments Solutions International which is a FinTech Company changing the unsecured lending market in Africa through technology.
He is passionate that PSI allows low and middle income earners total financial inclusivity and access to new financial products that are unheard of in the unsecured lending market, giving all individuals the power to improve their lives holistically without sacrificing their future to fund one specific ambition (e.g funding the tertiary education of a child)
For Mr Swart, the true appeal of PSI is that it positively and powerfully impacts the lives of its customers because the engagement rules built into the system will ensure that employees do not over-commit their resources and do, in fact, maximize their income.
Further, in countries where much work still needs to be done to create broad financial literacy, he is convinced that a system which can provide the basics of financial management while allowing users to reap the benefits of fiscal responsibility is both compelling and necessary.
His knowledge of the micro lending industry started in 1998 being a founder of a company that sold white goods to the unsecured market with innovative lending products. Riaan believes that the future of this market worldwide, through the use of financial services technology is essential to mitigate risk for financial service providers, therefore placing them in a position to offer employees far cheaper, more affordable unsecured credit instead of the exhorbitant rates they face currently.
Riaan Swart – Group CEO